Home
About the Designer
Project Portfolio
In the Press
Contact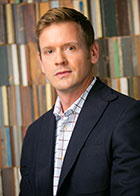 Aesthetic. Appropriate. Two words that have helped me develop an especially loyal client base in the greater western U.S. over the past fifteen years.
With studios in San Francisco and Chicago, I'm able to utilize resources to weave together often complex projects with stunning results.
~ Doyle McCullar

About the Designer…
Current yet classic. Indoor and outdoor. Forward-looking, yet respectful of the past. With over 20 years of design
experience, Doyle McCullar has built a loyal client base as well as a reputation for excellence within the architecture and design community. He possesses a rare range of knowledge, from ground up construction and space planning, to choosing luxe finishing details. This makes him an ideal choice for multi-faceted, whole-home projects; he's adept at combining luxury with livability, and creating spaces that are synergistic and soulful.
Classic, Contemporary, Modern…
McCullar is well-versed in classic, contemporary and modern design motifs, and he's equally comfortable in urban or rural environments. Whether a client is looking for a serene design scheme or something more daring he approaches each new project with the vision of an artist and the discipline to problem-solve and persist through the various stages. He makes it his mission to create something that's appropriate for, and complementary to a home's style, aesthetic and history with his clients needs always in mind.
Accolades
"My ideal designer would listen to my vague ideas and turn them into something beyond my imagination without going over the budget and keeping the project on schedule. Doyle is this and more. A courteous professional who overcame my fears and convinced me to trust him when he thought outside the box, who listened thoughtfully to my concerns and was 100% invested in my kitchen remodel." ~ Jim C.
"Doyle and I have worked on a number television projects together. I cast Doyle in several national television shows as expert designer and that he is. He has great vision and is super talented at creating one of a kind designs. Every project looks as amazing in person as it does on camera. I have also worked with him on a personal side and he was perfect at selecting furniture pieces that have accented my home beautifully." ~ Avelino P.
"I hired Doyle to expand and rework two bathrooms in my home. I chose Doyle because he had really good ideas of how best to expand the bathroom that needed to be expanded. His design sense dove-tailed with mine very well – plus he pushed me in ways I didn't think I'd go…" ~ Greg O.
"Doyle is a creative interior designer who makes the client think about new ideas without being too pushy. Doyle led the redecorating efforts for most of my home and roof deck (multiple assignments) and I am very happy with the process and outcome." ~ Susan M.
"Doyle delivers and is a man of his word. He has great creative talent and all of his projects have added value to our assets. He has transformed the buildings and interior spaces while always staying on budget and ahead of the creative curve. I will continue to hire Doyle for projects and would highly recommend Doyle for you interior or landscape design projects." ~ Rob W.